Great Paxton Millenniumfest - 1,000 Years
---
The construction of our Saxon church began in 1020, the village is a similar age, the 1,000 year celebrations will have a Saxon theme. They will centre on the weekend of the 12th and 13th June 2021 having been postponed in 2020.
---
Picture this.....In 1020, whilst King Cnut (Canute) was on the throne of England, our Holy Trinity Church was built as a Minster. This meant that it was there as a centre to train monks. We don't know why it was built in Great Paxton or then Pachstone (one of the many names it has been known by), but what we do know is that Edward, who would become King Edward the Confessor and eventually canonised, owned 23 hides (a unit of land measurement) in our 'manor' of Great Paxton and would be certainly have been responsible for the building.
We are going to be celebrating the 1000th birthday (1001st now) of our Church on 12th and 13th June 2021 so please do hold the dates and come along to support both the event and the building! We are going to keep the full programme under wraps but it will be spectacular with lots to enjoy by all the village, their family and friends and people from neighbouring towns and villages.
---
Some of the things you will be able to enjoy are:
Living History Encampment showing crafts and skills used
Archery
Hog Roast and other delicious food
Trade stalls
Battle moves
Atmosphere of an Anglo Saxon village through Theatre and Stocks
Open Bar with real ales
Lots of activities for the children to get involved in
Special guests

---
Ahead of the weekend we shall invite your children to take part in a 500 word story competition (rules to be sent via a flyer to all homes during the early part of the year. There will also be Fancy Dress at the Milleniumfest where we encourage both children and adults to dress up!
Keep watching this website for updates and information, we look forward to seeing the whole village come and enjoy the Millenumfest.
If you wish to speak to anyone about your ideas or suggestions for the event please contact:
Project Manager Diane James on 01480 406938
Website manager and village historian, Paul Ward 07483 815160
---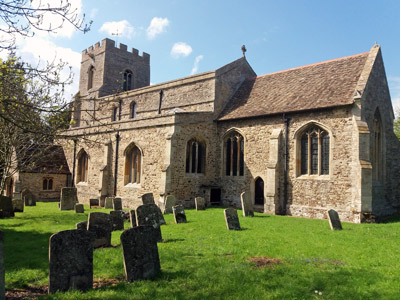 Great Paxton is a village of just over 1,000 people on the river Great Ouse in rural Cambridgeshire, England.
It is 59 miles north of London and well connected by the nearby A1 and A14 roads, St. Neots mainline railway station is 3 miles away.
---
Top banner image from the Lindisfarne Gospels, an Anglo-Saxon manuscript, image courtesy of the British Library