A Historical Map of the Parish of Great Paxton
£35 framed or £15 unframed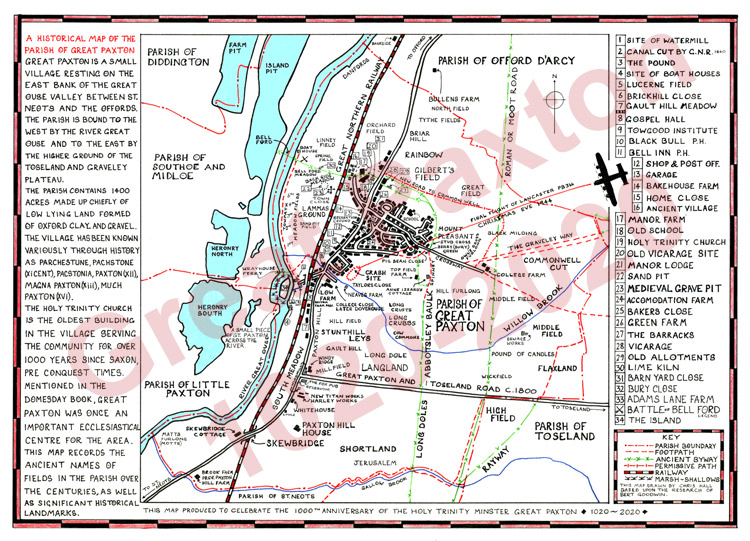 Prints don't have the "Great Paxton 1020-2020" watermark
---
Great Paxton villager Chris Hall has drawn this fantastic composite map of the village in celebration of the 1000 year anniversary of Holy Trinity Minster at Great Paxton. After some persuasion he has agreed to make copies available so others can own a high quality print of this remarkable map.
It has been brought together from other maps of the village made throughout the ages and a variety of written references to places, features and events from Great Paxton's past with great pains taken as to historical accuracy of names and locations. Some of the features are still present, some are still discernable while others are virtually or entirely gone.
There has never been anything like this produced previously about Great Paxton.
---
How to buy:
Contact Chris Hall directly by email or call on 07595 473806
Free delivery to or collection from Great Paxton or £2 to Huntingdon, St.Neots and surrounding villages, cash only.
1 - Framed - £35:
External size of frame: 540 x 440 mm, size of picture: 378 x 268 mm to the edge of the red and black border.
2 - Unframed - £15 + £1.50 protective tube:
430 x 305 mm to the edge of the red and black border with a 10mm white paper edge around this. This is the maximum size and will need a custom made mount to fit in an existing or custom made frame.
Unframed copies only can be posted further afield and can be paid for by credit or debit card via PayPal, there will be extra charges for this service charged at cost price, please enquire with delivery address.
Orders can also be taken at of village events during 2020/1 if and when they take place.
Profits to the Millenniumfest weekend and maintenance of the church.