Great Paxton Millenniumfest - 1,000 Years
Coronavirus Postponement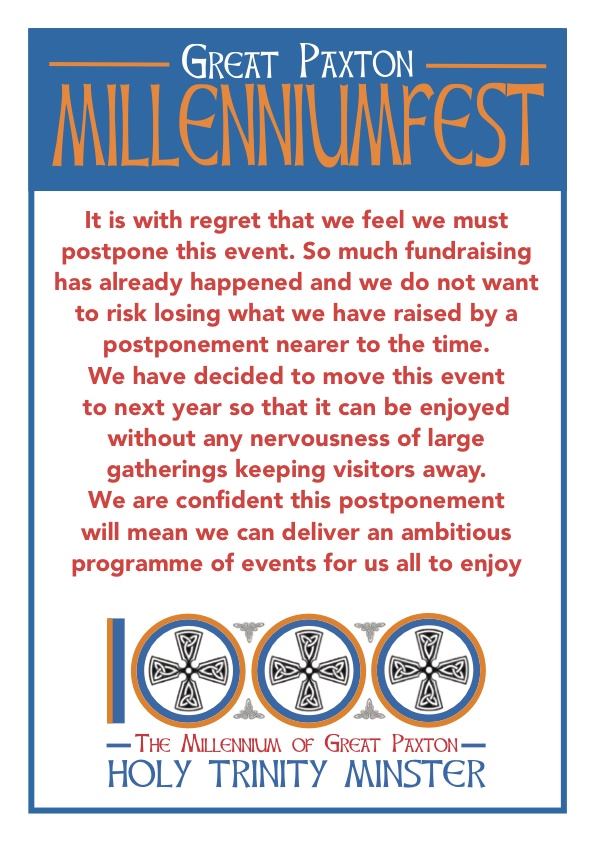 ---
Millenniumfest - 12th and 13th of June 2021
A Great Paxton Saxon Experience

Great Paxton church is dedicated to the Holy Trinity and so Trinity Sunday, which is the 7th of June in 2020, is being taken as the official birthdate. A two day village celebration was to take in the weekend of the 6th and 7th of June, though due to the increasing threat from the coronavirus this gathering has now been postponed until next year.
---
The churchyard with the magnificent church as a backdrop will be the setting for the two day celebration.
---
What's on?
We are currently in the planning stages of this event and will list events and attractions on this page as they become finalized in the months leading up to the weekend.
Saturday the 12th
10.21 a.m. to 5.30 p.m., a day with food and drink, stalls, and entertainments for all ages.
Step back into Saxon times and find out what it would have been like to live in Great Paxton with your great-great-great (a rough calculation gives about 40 generations and so 40 greats) grandparents.
Sunday the 13th
The day begins with a church service in mid-morning, with the attractions of the day before remaining until around 3.30 p.m.
---
If you wish to speak to anyone about your ideas or suggestions for the event please contact:
Project Manager Diane James on 01480 406938 or by
Website manager and village historian, Paul Ward 07483 815160