Chopping, Serving, Charcouterie Boards
Millennium Souvenirs
---
Dark Hardwood
Repurposed tropical hardwood makes for a premium surface, we have used boards like this daily for over eight years and they are still going strong. Finished with a black antique iron handle and a coat of food-safe mineral oil.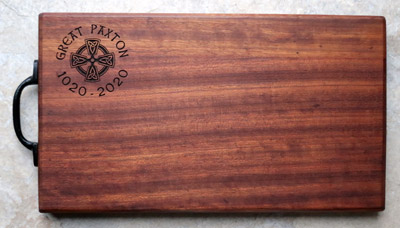 £20 - Medium Hardwood - approx. 34.5 x 19 x 2.5cm excluding handle - chopping / serving / charcouterie board.
£15 - Serving Board Hardwood - approx. 34.5 x 12 (min) x 2.5cm excluding handle - serving / charcouterie boards.
Beech
Beech (Fagus sylvatica) is another excellent choice for chopping boards being highly resilient to cuts and scratches. These boards are available in one size. The wood comes from a sutainably managed European source.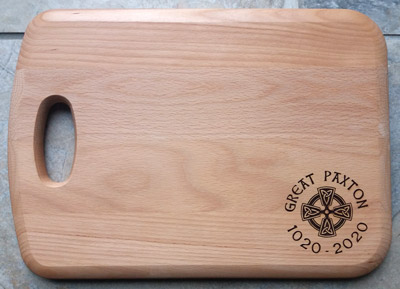 £18 Beech - 34 x 23.5 x 2cm - chopping board.
---
Oak
Oak makes a good surface for a serving or charcouterie board, though is somewhat less resilient for continued use as a chopping board, locally sourced wood.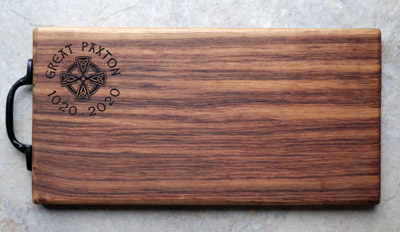 £15 Oak - 33 x 16.5 x 2cm excluding handle - serving / charcouterie board.
---
How to buy: Most boards will be engraved to order and will be ready in about 7 days, just pick which design/s you want on the board. Please with your details and the board pattern you want. By default the engravings and handles are placed as shown in the examples on this page.
Delivery within or collection to / from Great Paxton. Payment by bank transfer or in cash (correct change only) at delivery / pick-up.
Paul Ward
20% of the price of these boards will go towards supporting Great Paxton 1,000 Millennium events.
---
Board Care
Use the plain side of the board for cutting to preserve the engraving and use the engraved side as a serving board or for display. Wash as usual with a little washing up liquid, don't put them in the dishwasher.
A coat of food safe "chopping board oil" once or twice a year for hardwood boards and every month or two for other woods will keep them looking good and protect the wood.
---
Examples
---
---
---
The Designs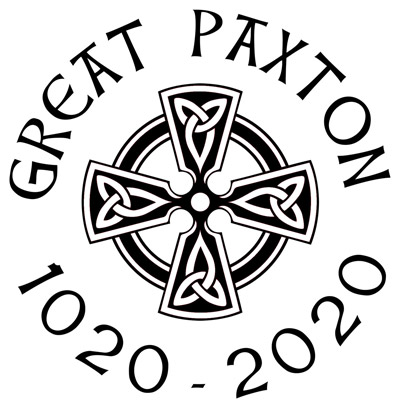 1 - Saxon square cross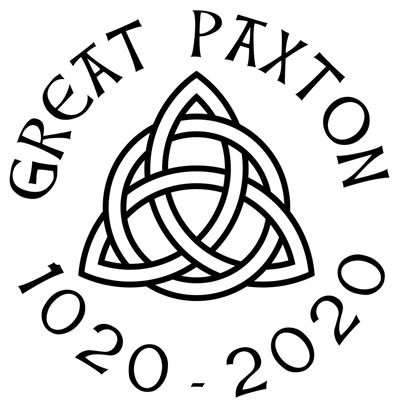 2 - Trinity knot
a triquetra with interwoven circle, an early symbol of the Holy Trinity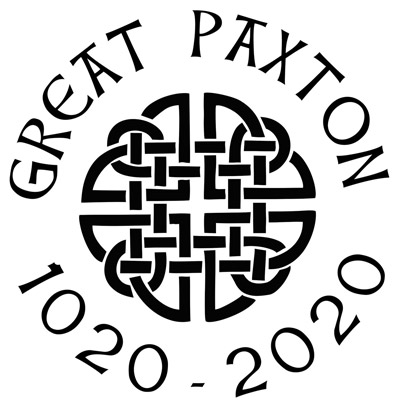 3 - Dara knot
---
"Lindisfarne Font"

4 - Simple Pachstone
, a deeper engraving with less ornate letters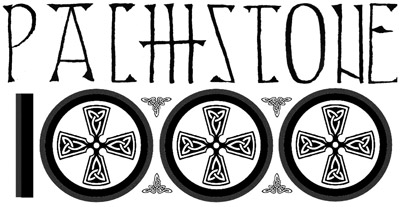 5 - Simple Pachstone + 1000 logo
I have taken these letters from the Lindisfarne Gospels to make a sort-of font with a few modifications so they look better in black and white and are more readable. The Lindisfarne Gospels were written around 700 A.D. and so represent an approximately contemporary script that would have been familiar around 1020 when work began on Great Paxton's church and the village. Not all letters are available as there wasn't our full modern alphabet then, though happily the letters needed to spell "Pachstone" are!
"Pachstone" was the first recorded name for what is now Great Paxton and is how it is referred to in the Doomsday (Domesday) Book. There was only one Paxton in those days, Little Paxton as a separate village didn't arrive for another couple of hundred years.