Decorative Wooden Ornaments
For the Christmas tree or a decorative item for any time. These wooden tree sections are engraved on one side with the "1000" logo for the Millennium celebrations with two alternatives for the other side.
£3 each or 4 for £10
Profits to finance the Saxon weekend on the 12th and 13th of June 2021 and/or other 1,000 year events.
These are sections of various types of locally grown wood, cut, sanded, engraved, drilled and tied with a piece of natural jute string. They are about 60-75mm in diameter.
How to buy: These will be available at a number of village events at the end of 2019 and throughout 2020. Each ornament is individual and double sided. Orders can be taken to be collected from or delivered to Great Paxton. Choose the wood type and what is to go on each side. me with what you want to order.
---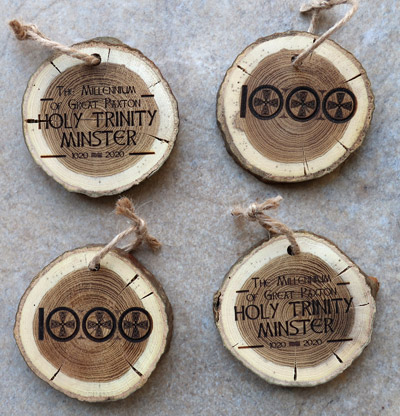 1 - Aged Laburnum. The dark heartwood contrasts strongly against the very pale sapwood, wrapped by intact bark.
---