0
Saturday May 29th, Sunday June 13th 2021
Provisional Dates
Cancelled in 2020 due to covid, hopefully restrictions permitting we will be able to return again with this popular stroll around Great Paxton's history
A leisurely 2 mile walk around the village in 2 - 2.5 hours seeing the familiar through the prism of history. Come and learn some of the long story of the place where you live, visit areas you may have never been before and meet fellow villagers you may have never met before.
£4 per person book in advance only, bookings open two months before the walks, maximum number 20.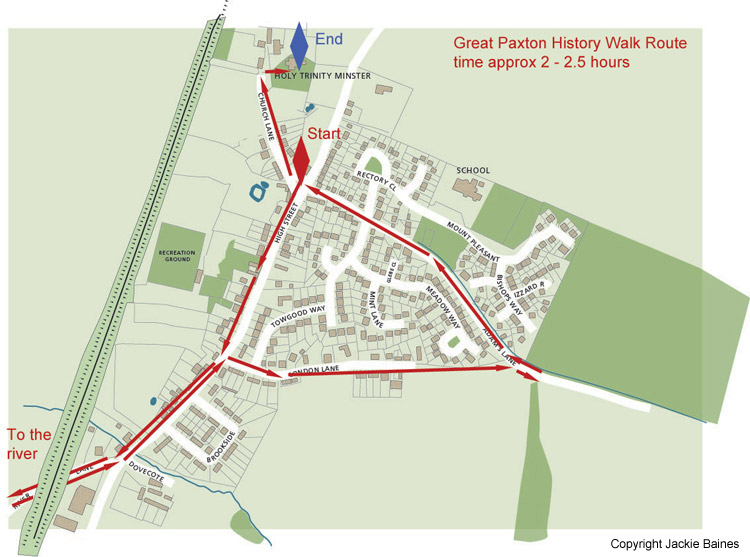 The popular Great Paxton History Walk is back!
The modest cost of £4 per person is split equally between the preservation of the church and Great Paxton History Group, no personal profit is made from these walks.
While the walk is specific to our village, many of the themes covered are also relevant to many other small rural communities in this part of the country in the Great Ouse Valley.
We meet at the small green on the High Street near the old school house at 2 p.m. and then follow the route on the map above ending in the churchyard. Circumstances permitting the church will be opened up if you wish to spend a little more time at the end of the walk looking around the interior.
The pace is leisurely and there is plenty of time to chat to others inbetween the numerous stops along the way. Whilst it is mainly on paved roads and walkways there are some parts across somewhat rough grassy areas, so reasonable footwear should be worn.
The walk is not really suitable for children younger than teenagers and while dogs are welcome, they should not be let off the lead at any point, please be aware there may be those on the walk who are not comfortable around dogs.
Any questions please contact me, Paul Ward 07483 815160
---
---
The Bell, pub on the High Street, 1930's and 2019.