---
Great Paxton Christmas Lights Switch-On 2021
Saturday 4th December 5.30 - 8.30 pm
Lights switch-on at 5.30 pm, stalls from 6 pm, fireworks at the Bell at 8.30 pm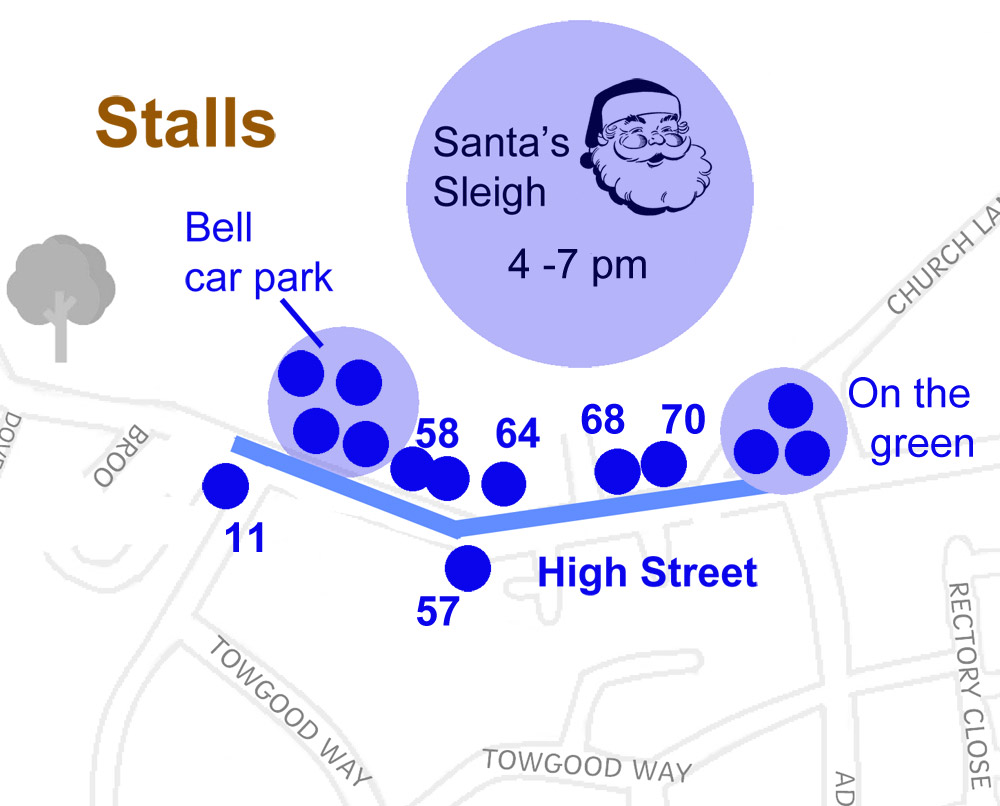 Where?
What?
2 Brookside
Homemade light bottles, scented candles and soaps, cakes and cards.
11 High Street
Bric-a-brac.
The Shop
Outside - mince pies, hot drinks, gifts, adult tombola, until 8.30 p.m.
Guides - Next to Shop

Tombola, guess the name of the bear, guess how many sweets in the jar.

The Bell CarPark
BBQ, PTA "decorate a gingerbread cookie", fireworks at 8.30 p.m.
58 High Street
Mistletoe and Christmas decorations.
Pulled pork in a bun. Preserves, jams and chutneys.
57, 68 & 70 High Street
Pre-school: Teddy tombola, general tombola for adults and children and Christmas themed games.
64 High Street
Engraved wooden and slate Christmas decorations and Great Paxton 1000 year memorabilia more here.
Buy your lockdown portrait!
Top of Church Lane
Mulled wine and mince pies.

Green Outside the School
Gifts and Christmas sausage rolls.
Santa's Sleigh
- St. Neots Round Table
Round the streets 4 - 7 pm. No door knocking, To donate £3 Text: RTSANTA to 70470, more here.


Food and drink to consume on the night
Orders - these items can be ordered in advance of the 4th of December for pick-up on the night or collection / delivery later.
To add more details about stalls or anything else please .