1,000 Jars for 1,000 Years - 18 Varieties!
Home made preserves with local Ingredients. Hedgerow foraged rose-hips, haws and rowan berries. Garden grown quince, medlars, plums, crab apples, damsons and greengages. Apples from an orchard of heritage Cambridgeshire varieties, all brought together by hand (many hands) in a farmhouse kitchen.
A taste of Saxon and historic times for your table. With few methods of preserving food, the summer and autumn bounty of fruits and berries would be made into jams, chutneys and other preserves that would bring much welcomed flavour and variety throughout the winter. Some ingredients are hardly used today, largely as it is so labour intensive to collect and process them (we learned this the hard way). The flavours are fabulous and we've found plenty of variety that you may not have tried before. All profits to finance the Saxon weekend on the 12th and 13th of June 2021.
Order here - Orders taken until Wednesday 7th October 2020, collection from Great Paxton village church on Sat. 10th October between 2pm-4pm.
Payment by bank transfer before collection from Great Paxton.
---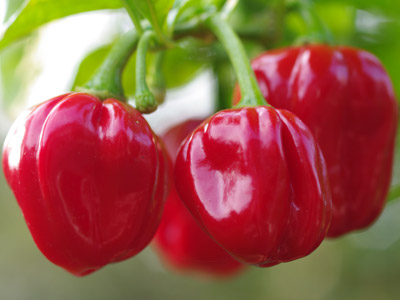 Confess All
Autumn Tomato Chili Chutney
Back by popular demand!
- limited stock
A blend of autumn fruit and vegetables with a generous addition of scotch bonnet chilies and spice. Hot! The chutney has a fruity, tangy flavour with a nice after-burn! A must for those with a taste for chili and great accompaniment for cold meats and cheese
Ingredients: Tomato, apple, onion, carrot, celery, sultanas, brown sugar, malt vinegar, scotch bonnet chili, chili flakes, black mustard seed, onion seed, tomato puree, dried garlic, fresh garlic, garam masala, ground mixed spice.
£2.50 per jar - min 370g
---
Dante's Inferno
Chilli Jam
Low Stock
A jelly which is sweet and tangy with an unmistakable punch of chili which goes well with cold cuts of meat or with cheese, particularly Brie.
Name - Dante imagined nine circles of hell of which the first was the inferno. Thanks to the discovery of the chili pepper it is possible to visit this circle accompanied by a nice piece of cheese without proceeding to the remaining eight.
Ingredients: apple juice, dried chili, sugar, pectin, citric acid.
£2.50 per jar - min 370g
---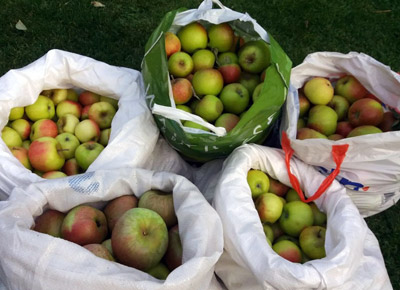 Boar Blimey
Traditional English Apple Chutney
Low Stock
This chutney is the perfect accompaniment for roast boar, pork pie or cheddar cheese. Intense apple and raisin, slightly sweet with piquant undertones of tamarind!
Ingredients: Apples, onions, raisins, brown sugar, malt vinegar, tamarind paste, yellow mustard seed, ground ginger, salt, corn starch.
£2.50 per jar - min 370g
---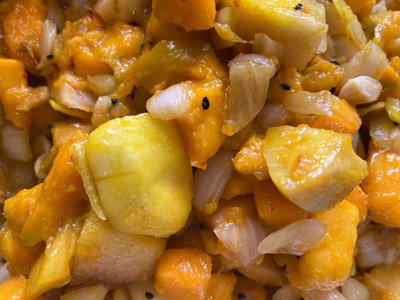 Toli's Relish
Fragrant Apple and Mango Chutney
A vibrant golden coloured chutney, intensely fruity with undertones of ginger and spice, mild chili. Perfect for ham or cheese.
Name - Earl Toli took the Province of Huntendune (Huntingdon) by force in 921 from the king.
Ingredients: Mango, apple, onion, fresh ginger, brown sugar, malt vinegar, green cardamom, cinnamon, cumin seed, coriander seed, black onion seed, turmeric, fresh chili, chili flakes, salt, corn starch.
£2.50 per jar - min 370g
---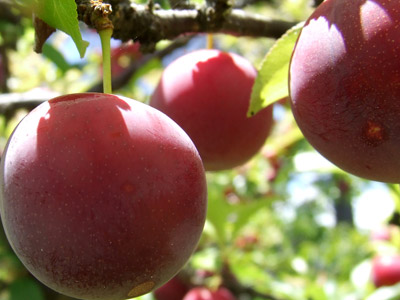 Wassail Reward
Plum and Apple Chutney
This is a rich and sweet, intensely flavoured, dark chutney made from greengages, Victoria plums, damsons and apples from a local orchard. This chutney is slowly boiled to intensify the flavours of star anise, cinnamon, cloves, fennel, Szechuan pepper and ginger. If you like the flavours of Peking duck, you will love this chutney.
Name - The Saxons invented the wassailing of fruit trees as a mid-winter rite to ensure a good crop, if you do it right your efforts are rewarded.
Ingredients: Greengage, Victoria plum, damson, apple, onion, raisons, brown sugar, malt vinegar, ginger, garlic, salt, ground cardamom, yellow mustard seed, 5-spice powder, crushed chili, corn starch.
£2.50 per jar - min 370g
---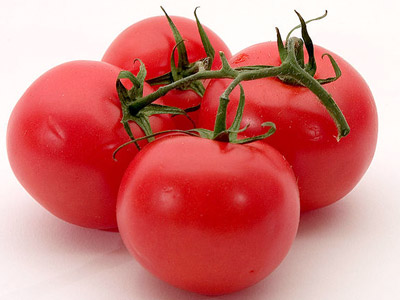 Alfred's Great
Tomato Chutney
A mild version of our Autumn tomato chutney without the heat of the scotch bonnet chili for those with tamer tastes.
Name - Alfred the Great was the King of Wessex and the Anglo-Saxons in the 9th century, he'd have loved this.
Ingredients: Tomato, apple, onion, carrot, celery, sultanas, brown sugar, malt vinegar, chilli flakes, black mustard seed, onion seed, tomato puree, dried garlic, fresh garlic, garam masala, ground mixed spice.
£2.50 per jar - min 370g
---
Victual Tickler
Apple, Date and Walnut Chutney
A rich, flavourful chutney with a nice texture and subtle walnut flavour. Mild and sweet. A perfect buffet accompaniment.
Name - Victuals is an old name for food, this is ideal to tickle it up to something grander.
Ingredients: Apple, onion, dates, walnuts, sultanas, raisins, sugar, vinegar, fresh ginger, ground mixed spice, cinnamon, chili flakes, salt.
£2.50 per jar - min 370g
---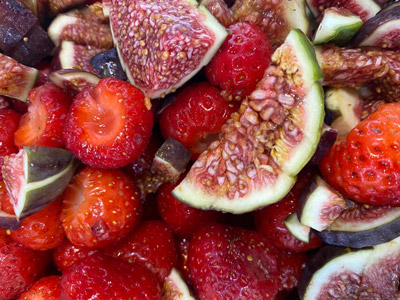 Treasure Hoard
Late Season Strawberry, Fig and Sherry Jam
The most expensive of our jams to make! Not for sharing!
Name - The Saxons were pretty big on treasure hoards that they would bury to come back to later on if they remembered, we make it easier to find your own treasure hoard.
Ingredients: late season English strawberries, black fig, sugar, sherry, citric acid, pectin.
£2.50 per jar - min 370g
---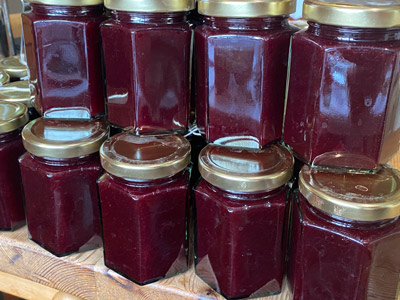 Elizabethan Elixir
Damson Preserve
Merryweather damsons are a tart member of the plum family, best enjoyed preserved. This preserve is a cross between a damson cheese containing the whole fruit and a jelly made from the juice. It may be enjoyed equally as a sweet preserve on toast or as an accompaniment to cheeses.
Ingredients: damsons, sugar, pectin, citric acid.
£2.50 per jar - min 370g
---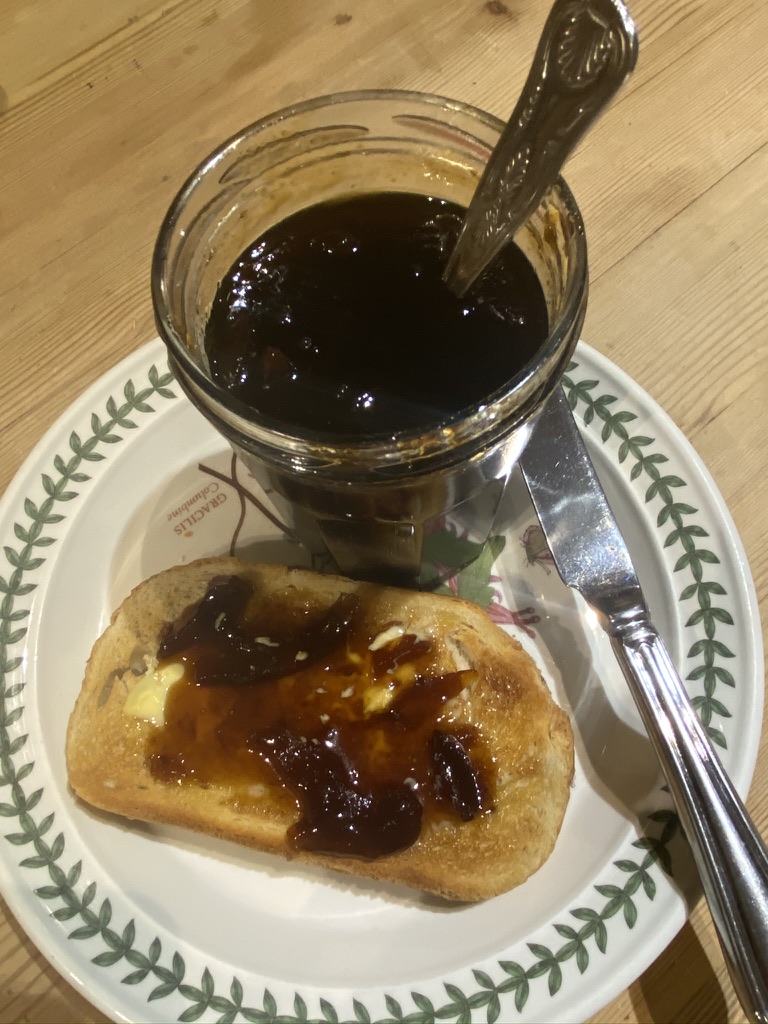 Beowulf's Breakfast
Olde English Marmalade
Dark and rich in intensity an Oxford style marmalade, not a thick set marmalade. The perfect accompaniment to your morning tea and toast and equally enjoyable with roast duck.
Name - Beowulf is an Anglo-Saxon epic poem, the hero kills a monster, then the monsters' mother, then later on a dragon. It is not recorded what he ate for breakfast, but he would undoubtedly be a fan of this on his toast.
Ingredients: Seville oranges, sugar, pectin, citric acid.
£3 per jar - min 370g
---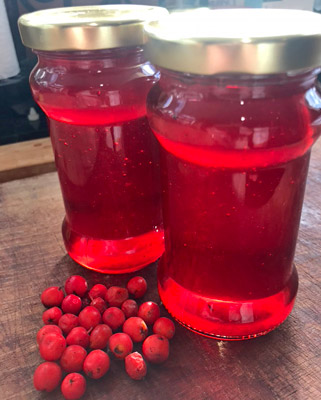 Wayfarers Epicure
Rowan Berry Jelly
Low Stock

A rare and exclusive jelly from fruit harvested from a little-known site in Grantchester. The ripe berries are best picked at dawn before the Wax wings can feast on them! Grantchester, formerly known as Grantesete or Grauntsethe in Anglo-Saxon times where Rowan berries were used to flavour meads and sauces! A deep rose, jewel-like jelly which is tart and slightly aromatic. Great with pate and cheese. You won't find this in Fortnum and Mason!
Name - Rowan is sometimes known as the travellers or wayfarers tree.
Ingredients: Rowan berries, apple, sugar, pectin.
£2.50 per jar - min 212g
---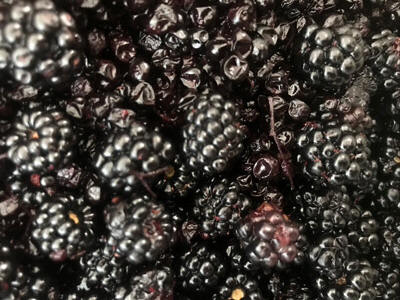 Sacred Tracklement
Elderberry, Blackberry, and Port Jelly
A deep purple jelly, intense in flavour and splendid with roast meats like duck, goose or lamb, equally good with cheese.
Name - The elderberry was a sacred tree to the Saxons.
Ingredients: blackberry, elderberry, apple, sugar, ruby port, pectin.
£2.50 per jar - min 212g
---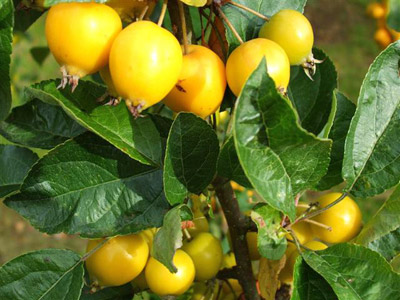 Canute's Delight
Saxony Herb and Crab Apple Jelly
A delicious jelly to accompany roast pork, veal, and chicken or cold meat. Made from organically grown local herbs and tiny, wild golden hornet crab apples.
Name - Canute was King of England in 1020 when building began on Great Paxton's Saxon church, he may have even been responsible in some part for it being built at all.
Ingredients: Golden Hornet crab apples, rosemary, thyme, bay leaf, sugar.
£2.50 per jar - min 212g
---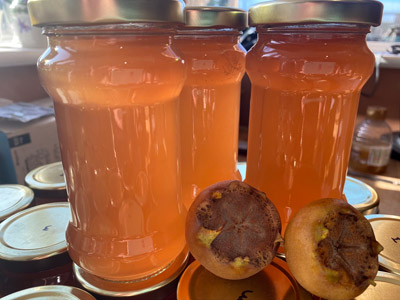 Chaucer's Choice
Medlar Jelly
Made from an old English variety of medlar harvested from Anglesey Abbey (with permission). The medlar is picked in early winter and left to slowly ripen indoors. The jelly has an apple/fig like flavour good with roast meat or spread on hot buttered crumpets. The medlar was introduced to England by the Romans and due to the unusual shape of the fruit attracted slang names; the French name literally translating to "dog's arse" and in medieval England, "open-arses". These fruits inspired bawdy or humorously indecent puns in early literature such as Shakespeare's Romeo and Juliet
Ingredients: Medlars, sugar, pectin, citric acid
Now will he sit under a medlar tree,
And wish his mistress were that kind of fruit
As maids call medlars, when they laugh alone.
O Romeo, that she were,
O that she were
An open-arse and thou a pop'rin pear!
Shakespeare - Romeo and Juliet
£2.50 per jar - min 212g
---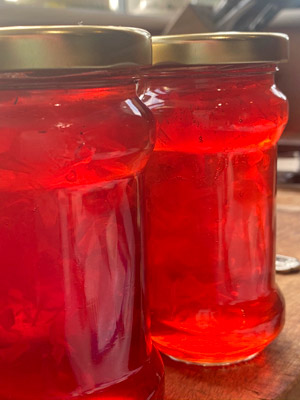 Boleyn's Temptation
Quince & Rose Petal Jelly
This jelly is bursting with the fragrance of ripe quince and the last blooms of summer from David Austin's 'Ann Boleyn rose. The quince has long been associated with love and fertility and its name in Ancient Greece was used as a ribald term for 'young breasts'. How appropriate then that the besotted Henry VIII had a trifle created for his mistress Ann Boleyn using quince, which became the favourite's favourite sweet temptation.
Ingredients: Quince, sugar, pectin, citric acid.
£2.50 per jar - min 212g
---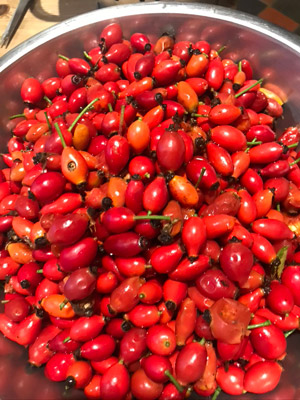 Conqueror's Confiture
Rose Hip Jelly
This fragrant jelly needs no description of flavour for those of us old enough to be raised on Delarosa fruit syrup for toddlers. For the younger generation rose hip jelly, which is pale pink in colour can be described as having a honey and hibiscus flower taste. The word hip has survived from before the Anglo-Saxon era and appears in the glossary compiled by the Anglo-Saxon grammarian Aelfric of Eynesham in the ninth century. Hips were used more in medicine than food, with the flowers having a greater culinary use. This jelly is delicious on toasted muffins, scones and with cheese or cold meats.
Name - William the Conqueror led the last invasion of England in 1066, so bringing to an end to Saxon rule.
Ingredients: Hips, crab apples, sugar, pectin, citric acid.
£2.50 per jar - min 212g
---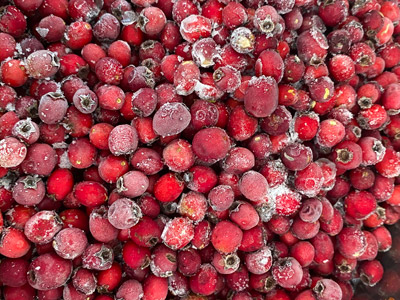 May Queen's Nectar
Mayflower (Hawthorn) Jelly
In spring hawthorns up to two-inch thorns give rise to clusters of white or pink blossom traditionally called Mayflowers and used in early May Day celebrations. In early winter the hawthorn tree bears abundant vivid red berries which were an important source of food in Anglo-Saxon times. This jelly is made from the haws found growing locally in many hedgerows.
Name - May is a name for hawthorn as well as the name of the month. "Ne'er cast a clout 'ere May is out" refers to the blossom of hawthorns emerging rather than the end of the month.
Ingredients: Haws, sugar, pectin, citric acid.
£2.50 per jar - min 212g
---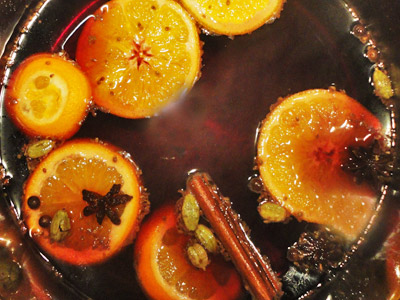 Lady Godiva's Grog
Mulled Wine Jelly
Red wine and spices have warmed and comforted through the ages. A Christmas crumpet essential.
Name - Lady Godiva lived in the late Saxon era or just after (or maybe much longer after), a swig of grog or mulled wine would have helped keep her warm while riding naked through Coventry.
Ingredients: Red wine, apple, ginger, clove, nutmeg, star anise, cinnamon, all-spice berries, lemon, orange, pectin, citric acid.
£2.50 per jar - min 212g
---
Please keep your used jars as we can use them again, collection details to follow.

These preserves have been prepared in a family kitchen where gluten-containing products are used.

Therefore, we have to state that these products are not gluten-free.

A list of ingredients for each product can be downloaded here
---
Picture credits: Plums - Erin Silversmith, used under GNU Free Documentation License, Version 1.2 / Tomatoes - Softeis, used under Creative Commons Attribution-Share Alike 3.0 Unported license